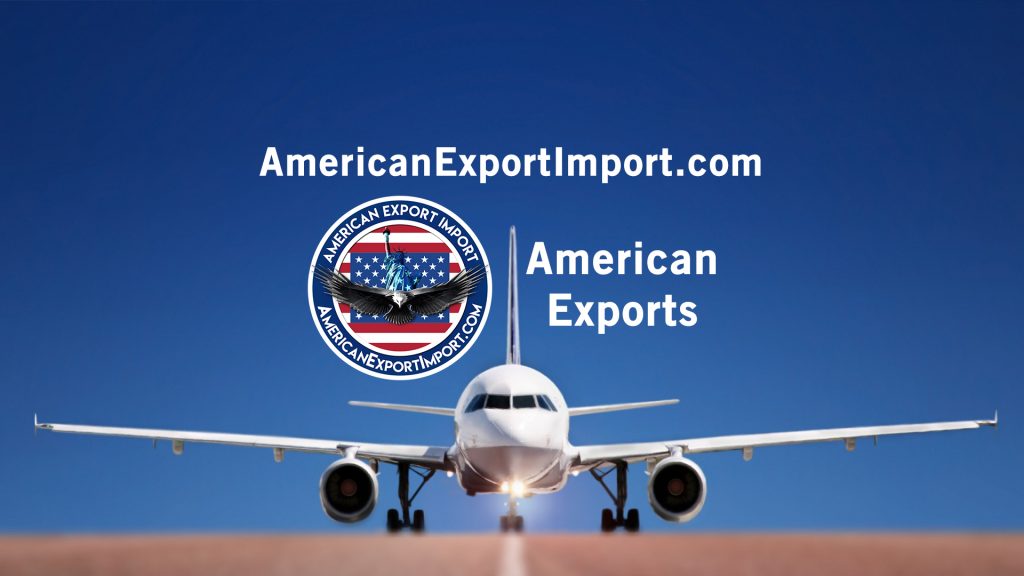 Export Your Products or Services!
Register Your Business and Start Selling!
Go international!
Get Access to a

Huge

Export Market!
Millions of Buyers!
Sell Worldwide!
Two Easy Steps:
Step 1: Register your business.
Send a short description of your business and contact details to:
Review@AmericanExportimport.com
Your business will be reviewed and, if approved, we'll let you know.
Step 2: Receive orders & start selling!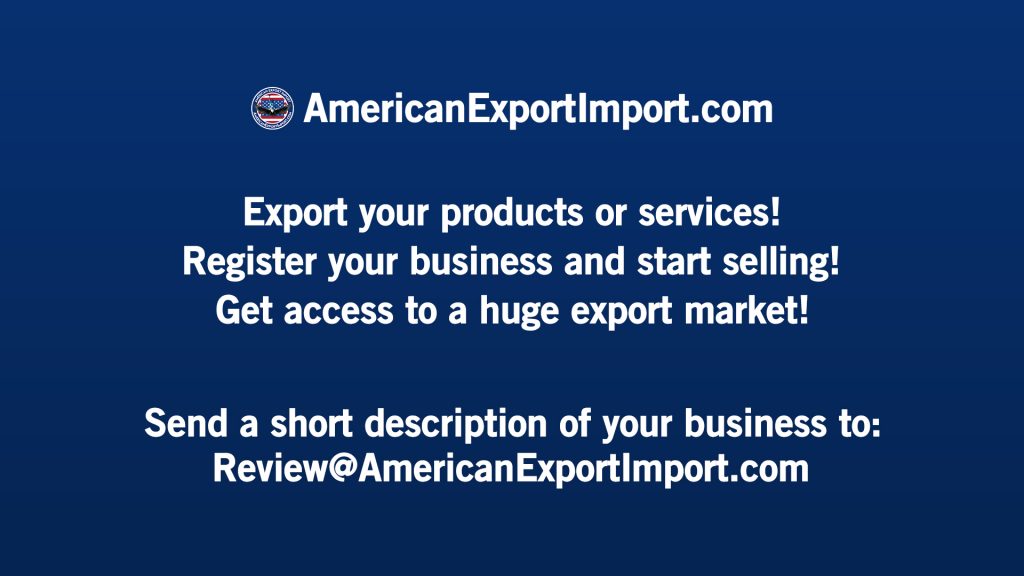 American Export Import knows, as we all do, that the global market is highly competitive, so you need a reliable partner who is able to provide the access you need to go international and sell to businesses and distributors worldwide, in most locations, including, but not limited to:
The UK (United Kingdom of Great Britain and Northern Ireland);
Europe: Austria, Belgium, Cyprus, Denmark, France, Germany, Greece, Ireland, Italy, Luxembourg, Finland, Estonia, Latvia, Lithuania, Malta, Netherlands, Poland, Portugal, Spain, Sweden; Central & Eastern Europe;
Oceania (Australia, New Zealand)
Russian Federation, Turkey, Israel;
Asian Countries & Territories (Japan, China, Hong Kong, Taiwan, South Korea, Indonesia, Philippines, Thailand, Malaysia, Singapore, India, Pakistan, Laos, Brunei);
Middle East (Saudi Arabia, Oman, Qatar, United Arab Emirates, Kuwait, Jordan);
Africa (South Africa, Morocco, Nigeria, Ghana, Kenya, Zimbabwe)
American Neighbors (Canada & Mexico);
Central America (Panama, Costa Rica);
South America;
American Export Import will not only sell your products and services from the United States to our clients in those regions, but we'll also organize local and regional distribution channels for all services, from all business sectors, supplied, manufactured and developed by American businesses and American entrepreneurs.
American Export Import – Full Support for All American Businesses and American Entrepreneurs
All American companies, selling all kind of goods and services, have the support of American Export Import to sell such goods and services worldwide.
American Export Import will always be a reliable partner for all American companies, manufactures or not, be it well established companies with already famous brands, new established businesses, or even startups.
American Export Import – Examples of Success
Among the many recent success stories, we consider worth mentioning the ability of the American Export Import team to find customers and get orders for a startup manufacturing custom human robots.
We'll briefly mention a short series of success stories that include the ability of American Export Import to open new distribution channels for new food products, cigarette brands, or medical equipment manufacturers that now have the possibility to sell their products and services to a significant number of clients, as a result of American Export Import efforts, extensive experience and valuable contacts.
The Long History of American Export Import Provides You with the Necessary Contacts, Extensive Experience, and Access to New Markets and New Customers, so You Can Sell More Products and Services
As a result of several mergers and acquisitions, including, but not limited to the ones of The American Group with USA Distribution Network followed by the acquisition of National Technologies, American Export Import – AmericanExportImport.com was established as part of the American Capital Group.
In January 2020 we just celebrated 35 years of being in business!
American Export Import – Complete Financial Support for Selected and Accepted Business Partners
As a result of our extensive experience, we are able to arrange funding, including, but not limited to Export Finance, Factoring, Local Trade Funding, and International Trade Funding, for selected and accepted business partners, suppliers or customers, when it is required.
American Export Import – Handled Goods and Services
American Export Import – Goods
The merchandise we buy, sell, export, import and open distribution channels for includes, but is not limited to:
Raw materials: timber, iron, steel, and any other kind of metals;
Construction materials: cement, steel, and all kinds of metals and materials for the construction industry;
Construction equipment: cranes, excavators, bulldozers, and all other equipment and construction systems;
Agriculture and food industry products: all kinds of cereals, crops, fruits and vegetables, fresh or dry, as well as meat, meat-based products and livestock;
Tobacco: all kinds of cigarettes and tobacco products;
Alcohol: all kinds of products that contain alcohol, including, but not limited to all kinds of spirits (whiskey, vodka, rum, and many others) as well as all kinds of wine and beer;
Packaged food products: packaged food products that are ready to be sold in shops, with the possibility to leverage on the strength of the American Export Import distribution network, giving you the possibility to put your products on the shelves, at eye level, in front of the American consumers, at national level, covering all states, from Hawaii to California, then down to Florida and up to Washington and New York City
Warehouse equipment: forklifts, automated warehouse storage systems, and all kinds of warehouse equipment;
Energy related products: oil, natural gas, mazut, coal, and all kinds of energy related products;
Equipment for the energy sector: technology and equipment for oil refineries, gas stations, and more;
Transport vehicles and transport equipment: trucks, railway equipment, wagons, locomotives, trains, car fleet, drones, both autonomous or operated by humans, and all kinds of vehicles;
Telecommunications: all equipment, materials and products necessary for all communication technologies, with focus on 5G systems and market access, as well as government approvals, permits and licenses, leveraging on the extensive experience and valuable contacts of American Export Import in the area of politics, government relations, public affairs, lobby, new legislation bills, both in United States, as well as in most countries, regions and territories.
Manufacturing: factory and manufacturing equipment for all industries and business sectors, including, but not limited to oil and energy, automotive, food processing, packaging materials and equipment, cigarette factory equipment, complete cigarette production lines, tobacco processing plants, including robots for your production floor;
Medical Equipment: medical supplies and equipment for all medical sectors, including, but not limited to surgery, trauma, laboratory, medical transportation special vehicles, as well as "Turn-key Hospitals";
City traffic management systems;
Heavy machinery for the mining industry;
Custom Industrial Robots: light work or heavy duty industrial robots, technology and machinery;
Custom Human Robots: androids and advanced humanoid robots for protection, entertainment and work;
Custom Military and Defense Robots;
Military equipment and devices;
Remodeling industry: tools and equipment for any type of structure and construction, whether it is flooring, demolition, electrical, roofing, HVAC, or another trade;
Home products: home devices, with Internet of Things (IoT) or without Internet of Things, and other products for personal use, such as tools & home improvement equipment;
Technology: all kinds of devices, including, but not limited to mobile phones, tablets, laptops, personal computers, and up-to-date gadget and professional devices;
Video game industry: all kinds of video games, equipment and accessories;
Fashion: Clothing, Shoes, Jewelry and accessories;
Consumer goods: all kinds of products part of the FMCG – Fast Moving Consumer Goods Category, both famous brands, as well as new products that need to be launched;
American Export Import – Services
The services we buy, sell, export, import, and open distribution channels for, include but are not limited to:
Bank Services, Leasing Operations, Insurance Sales and Distribution, Fintech Services, IT – Internet and Technology Services, Software, Services Related to the sales and distribution of Credit Cards and of Debit Cards, Services provided by Digital Businesses, Private Security Services, Defense and Military Services, Government Sector Services, Government Relations Services, Public Affairs Services, Government Lobbying Services, Government Sales and Acquisition Services, Local Government  Services, Central Government Services, Natural Resources Exploration – Licenses and Permits Related Services, Government Military Services, Private Military Services, Mergers and Acquisitions Services, Financial Services, Investment Banking Services, Legal Services, Immigration Services, Real Estate Investors Services.
American Export Import – Open to Sell and Distribute Other Goods and Services
If you sell goods or services that are not listed above, please feel free to send us a short email and we'll let you know if we can do it for you or not.
American Export Import – Export from USA and Open International Distribution Channels
If you are an American business and want to access new distribution channels, open new markets, sell products or services from USA to other countries and go international, and you are not already our business partner, in order for you to directly contact your agent, just send a brief, describing your business, as well as the products or services you intend to sell internationally, to:
ExportFromUSA@AmericanExportImport.com
This email is mainly for american businesses and american entrepreneurs who are interested to export from the United States.
American Export Import – Import from USA
If you want to access new supply channels, to find new suppliers of raw materials or of other goods, to buy products or services from USA, and you are not already our business partner, in order for you to directly contact your agent, just send a brief, describing your business, as well as the products or services you intend to buy to from American manufacturers or other USA businesses supplying the goods, the technologies and services you want, to:
ImportFromUSA@AmericanExportImport.com
This email is mainly destined for businesses and entrepreneurs located outside of the U.S. who are interested to buy goods and services.
American import, American imports, American tactical imports, trading international, international trade, trading places international, American trading international, American exports, American export, American export lines, American international export, what does the US export, US major exports, international trade commission, international trade administration, what role does competition play in international trade, what is international trade, US export, US exports, US oil exports, US exports to China, what does the US export to china, what does China export to the US, Exim bank, US Exim bank, China Exim bank, Euro Exim bank, export import bank, export import bank of the United States, import export, import and export, import vs export, import export business, American distribution, Los Angeles, San Francisco, Sacramento, San Diego, Santa Ana, Orange County, California, Dallas, Fort Worth, Houston, Texas, Miami, Fort Lauderdale, Florida, Atlanta, Georgia, New York City, New York, NYC, Washington D.C., District of Columbia, Washington State, Portland, Oregon, North Carolina, South Carolina, Chicago, Michigan, Las Vegas, Nevada, New Orleans, Louisiana, Honolulu, Hawaii, Alabama, New Jersey, Massachusetts, Iowa, Tennessee, New Mexico, Delaware, Nebraska,  West Virginia, Virginia, Vermont, Arizona.