American Export Import – Business Sectors, Handled Goods and Services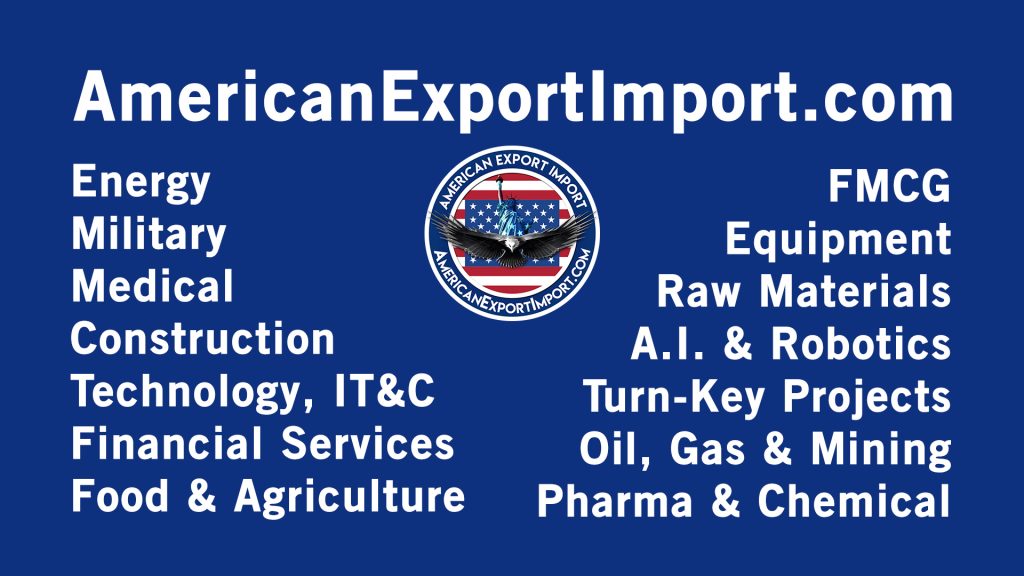 American Export Import Is Active in Most Business Sectors and the List of Goods and Services We Buy, Sell or Organize Distribution Channels Is Extensive
Here is a part, just as an example, of the goods and services and of some of the business sectors where American Export Import has the expertise:
Energy;
Military;
Medical;
Construction;
Technology, IT & C;
Financial Services;
Food & Agriculture;
FMCG – Fast Moving Consumer Goods;
Equipment;
Raw Materials;
Artificial Intelligence (A.I.) & Robotics;
Oil, Gas & Mining;
Pharmaceuticals & Chemical Industry;
Turn-Key Projects, including, but not limited to power plants, oil refineries, infrastructure projects, hospitals, manufacturing & complete factories;
Building Products, including, but not limited to Lumber, Cement, Tools, Tiles, Roofing, Metals, Rebars, Paints, Pipes, Plumbing, Flooring, Hardware, Ceiling, Cabinetry, Fencing, Lighting, Electrical, Doors & Moldings, Carpets, Appliances, Plywood and all kind of heavy or light Building Equipment;
Military and military related products, equipment and services: American Export Import has well established business relations with almost all acceptable and approved countries and governments, selling military equipment and related products and services. Also, American Export Import has a long history selling to foreign non-military security forces. Such security forces include private security services (such as security guards), as well as non-military government security forces such as local police, transportation police, federal police as well as other national, local or international Law Enforcement Agencies and Organizations.
American Export Import Is Actively Looking for Customers, End-Users, Clients, Manufacturers, Producers, Suppliers, Traders, Importers, Exporters, Import Export Agents, Independent Agents, Local Representatives and Distributors that Need to Buy or Sell:
Gas Turbines, Integrated Circuits, Broadcasting Equipment, Computers, Machinery Having Individual Functions, Valves, Centrifuges, Insulated Wire, Spark-Ignition Engines, Liquid Pumps, Low-Voltage Protection Equipment, Engine Parts, Combustion Engines, Air Pumps, Office Machine Parts, Transmissions, Large Construction Vehicles, Electrical Control Boards, Excavation Machinery, Telephones, Other Heating Machinery, Electric Motors, Electrical Transformers, Electric Batteries, Semiconductor Devices, Harvesting Machinery, Blank Audio Media, Navigation Equipment, Ball Bearings, Other Engines, Lifting Machinery, Refrigerators, Liquid Dispersing Machines, Electrical Ignitions, Industrial Printers, Other Electrical Machinery, Video Recording Equipment, Broadcasting Accessories, Video Displays, Air Conditioners, Fork-Lifts, Microphones and Headphones, Electric Generating Sets, Electrical Power Accessories, Rubberworking Machinery, Electric Heaters, Electrical Lighting and Signalling Equipment, Other Construction Vehicles, Audio Alarms, Metalworking Machine Parts, Washing and Bottling Machines, Stone Processing Machines, Boat Propellers, Electric Soldering Equipment, Motor-Working Tools, Metal Molds, Industrial Food Preparation Machinery, Other Domestic Electric Housewares, Radio Receivers, Printed Circuit Boards, Electrical Resistors, Batteries, Other Agricultural Machinery, Soil Preparation Machinery, Gaskets, Electric Furnaces, Electric Motor Parts, Electrical Capacitors, Pulley Systems, Metalworking Transfer Machines, Forging Machines, Cranes, Electric Filament, Nuclear Reactors, Textile Processing Machines, High-Voltage Protection Equipment, Household Washing Machines, Metal Insulating Fittings, Electromagnets, Other Paper Machinery, Glass Working Machines, Sound Recordings, Vacuum Cleaners, Industrial Furnaces, Steam Turbines, Metal Lathes, Cathode Tubes, Scales, Carbon-Based Electronics, Metal-Rolling Mills, Non-Mechanical Removal Machinery, Calculators, Liquid Fuel Furnaces, Metal Finishing Machines, Woodworking Machines, Drilling Machines, Electrical Insulators, Hair Trimmers, Dairy Machinery, Mill Machinery, Boiler Plants, Traffic Signals, Sewing Machines, Soldering and Welding Machinery, Dictation Machines, Knitting Machines, Stone Working Machines, Sound Recording Equipment, Hydraulic Turbines, Rolling Machines, Print Production Machinery, Water and Gas Generators, Textile Fiber Machinery, Artificial Textile Machinery, Tobacco Processing Machines, Audio and Video Recording Accessories, Fruit Pressing Machinery, Book-Binding Machines, Looms, Leather Machinery, Typewriters, Vehicles, Cars, Planes, Helicopters, and/or Spacecraft, Vehicle Parts, Aircraft Parts, Delivery Trucks, Tractors, Trailers, Recreational Boats, Specialized Vehicles, Motorcycles, Vehicle Bodies, Buses, Bi-Wheel Vehicle Parts, Armored Vehicles, Locomotive Parts, Aircraft Launch Gear, Railway Cargo Containers, Railway Freight Cars, Other Locomotives, Work Trucks, Railway Maintenance Vehicles, Special Purpose Ships, Parachutes, Other Floating Structures, Wheelchairs, Vehicle Chassis, Tug Boats, Bicycles, Other Sea Vessels, Railway Track Fixtures, Passenger and Cargo Ships, Self-Propelled Rail Transport, Railway Passenger Cars, Scrap Vessels, Baby Carriages, Fishing Ships, Non-Powered Aircraft, Electric Locomotives, Chemical Products, Packaged Medicaments, Human or Animal Blood and Vaccines, Laboratory Reagents, Reaction and Catalytic Products, Industrial Fatty Acids, Oils and Alcohols, Cyclic Hydrocarbons, Beauty Products, Pesticides, Hormones, Nitrogen Heterocyclic Compounds, Cleaning Products, Antiknock, Ethers, Acyclic Hydrocarbons, Mixed Mineral or Chemical Fertilizers, Hydrogen, Acyclic Alcohols, Halogenated Hydrocarbons, Scented Mixtures, Other Coloring Matter, Saturated Acyclic Monocarboxylic Acids, Special Pharmaceuticals, Lubricating Products, Sodium or Potassium Peroxides, Carbonates, Unpackaged Medicaments, Perfumes, Nonaqueous Paints, Nucleic Acids, Glues, Amine Compounds, Disc Chemicals for Electronics, Hair Products, Oxygen Amino Compounds, Glaziers Putty, Unsaturated Acyclic Monocarboxylic Acids, Shaving Products, Ink, Synthetic Coloring Matter, Antibiotics, Radioactive Chemicals, Bandages, Nitrogenous Fertilizers, Photographic Plates, Enzymes, Other Nitrogen Compounds, Vitamins, Photographic Chemicals, Oxygen Heterocyclic Compounds, Phenols, Aluminium Oxide, Dyeing Finishing Agents, Photographic Film, Waxes, Prepared Rubber Accelerators, Carboxyamide Compounds, Glands and Other Organs, Ketones and Quinones, Carboxylic Acids, Activated Carbon, Inorganic Salts, Sulfonamides, Peptones, Dental Products, Water Soluble Proteins, Other Inorganic Acids, Polishes and Creams, Soap, Epoxides, Candles, Carbon, Prepared Pigments, Dextrins, Hydrides and Other Anions, Phosphoric Acid, Quaternary Ammonium Salts and Hydroxides, Cyanides, Phosphinates and Phosphonates, Organic Composite Solvents, Nonaqueous Pigments, Aldehydes, Alkylbenzenes and Alkylnaphthalenes, Artificial Graphite, Chlorides, Refractory Cements, Borates, Antifreeze, Metal Pickling Preparations, Prepared Explosives, Hydraulic Brake Fluid, Detonating Fuses, Other Esters, Sulfates, Ammonia, Other Inorganic Acids Salts, Fluorides, Photographic Paper, Rosin, Chemically Pure Sugars, Cyclic Alcohols, Tall Oil, Vegetable or Animal Dyes, Sulfonated, Nitrated or Nitrosated Hydrocarbons, Other Isotopes, Other Organic Compounds, Inorganic Compounds, Gelatin, Oxometallic or Peroxometallic Acid Salts, Potassic Fertilizers, Zinc Oxide and Peroxide, Propellant Powders, Phenol Derivatives, Carbides, Vegetable Alkaloids, Sulfides, Boron, Hypochlorites, Iron Oxides and Hydroxides, Other Paints, Halides, Fireworks, Developed Exposed Photographic Material, Carboxyimide Compounds, Chromium Oxides and Hydroxides, Hydrogen Peroxide, Halogens, Silicates, Pastes and Waxes, Wood Pulp Lyes, Fire Extinguishers Preparations, Phosphoric Esters and Salts, Sulfites, Lake Pigments, Alkaline Metals, Glycosides, Hydrazine or Hydroxylamine Derivatives, Chlorates and Perchlorates, Nitrites and Nitrates, Magnesium Hydroxide and Peroxide, Manganese Oxides, Wood Tar, Oils and Pitch, Sulfur, Casein, Pyrophoric Alloys, Titanium Oxides, Rare-Earth Metal Compounds, Artistry Paints, Sulfuric Acid, Turpentine, Nonmetal Sulfides, Diazo, Azo or Aoxy Compounds, Lead Oxides, Nitric Acids, Mineral Products, Refined Petroleum, Petroleum Gas, Crude Petroleum, Coal Briquettes, Petroleum Coke, Zinc Ore, Copper Ore, Coal Tar Oil, Iron Ore, Lead Ore, Molybdenum Ore, Non-Iron and Steel Slag, Ash and Residues, Kaolin, Clays, Coke, Petroleum Jelly, Precious Metal Ore, Nickel Ore, Asphalt Mixtures, Cement, Other Mineral, Salt, Sand, Soapstone, Asphalt, Niobium, Tantalum, Vanadium and Zirconium Ore, Quicklime, Tar, Sulphur, Magnesium Carbonate, Quartz, Dolomite, Marble, Travertine and Alabaster, Graphite, Titanium Ore, Pumice, Granite, Pitch Coke, Siliceous Fossil Meals, Mica, Other Slag and Ash, Gravel and Crushed Stone, Tungsten Ore, Slag Dross, Barium Sulphate, Lignite, Gypsum, Other Ores, Feldspar, Manganese Ore, Chromium Ore, Tin Ores, Peat, Granulated Slag, Iron Pyrites, Chalk, Borax, Cobalt Ore, Calcium Phosphates, Aluminium Ore, Uranium and Thorium Ore, Instruments, Medical Instruments, Orthopedic Appliances, Photo Lab Equipment, Chemical Analysis Instruments, Other Measuring Instruments, X-Ray Equipment, Thermostats, Oscilloscopes, Gas and Liquid Flow Measuring Instruments, Optical Fibers, LCDs, Compasses, Surveying Equipment, Therapeutic Appliances, Hydrometers, Utility Meters, Eyewear, Tensile Testing Machines, Revolution Counters, Base Metal Watches, Mirrors and Lenses, Instructional Models, Precious Metal Watches, Non-Optical Microscopes, Opto-Electric Instrument Parts, Breathing Appliances, Microscopes, Musical Instrument Parts, Electric Musical Instruments, Binoculars and Telescopes, Drafting Tools, String Instruments, Cameras, Photocopiers, Video Cameras, Eyewear Frames, Percussion, Wind Instruments, Image Projectors, Time Recording Instruments, Other Clocks, Pianos, Time Switches, Watch Movements, Watch Straps, Dashboard Clocks, Balances, Other Clocks and Watches, Other Musical Instruments, Clocks with Watch Movements, Watch Cases and Parts, Clock Movements, Incomplete Movement Sets, Accordions, Plastics and Rubbers, Ethylene Polymers, Other Plastic Products, Polyacetals, Raw Plastic Sheeting, Rubber Tires, Plastic Lids, Vinyl Chloride Polymers, Propylene Polymers, Synthetic Rubber, Plastic Pipes, Self-Adhesive Plastics, Polyamides, Other Rubber Products, Other Plastic Sheetings, Acrylic Polymers, Amino-Resins, Styrene Polymers, Petroleum Resins, Silicone, Cellulose, Rubber Pipes, Other Vinyl Polymers, Compounded Unvulcanised Rubber, Scrap Plastic, Rubber Belting, Monofilament, Rubber Sheets, Plastic Housewares, Natural Polymers, Plastic Floor Coverings, Plastic Building Materials, Polymer Ion-Exchangers, Used Rubber Tires, Plastic Wash Basins, Unvulcanised Rubber Products, Rubber Apparel, Rubber, Pharmaceutical Rubber Products, Scrap Rubber, Reclaimed Rubber, Rubber Inner Tubes, Hard Rubber, Rubber Thread, Vegetable Products, Soybeans, Corn, Other Nuts, Wheat, Rice, Forage Crops, Grapes, Apples and Pears, Dried Legumes, Sorghum, Citrus, Pitted Fruits, Sowing Seeds, Other Fruits, Other Vegetables, Lettuce, Vegetable Saps, Ground Nuts, Cabbages, Oil Seed Flower, Coffee, Frozen Vegetables, Sunflower Seeds, Potatoes, Dried Fruits, Malt, Cassava, Other Oily Seeds, Onions, Frozen Fruits and Nuts, Hops, Dried Vegetables, Perfume Plants, Melons, Other Live Plants, Tropical Fruits, Wheat Flours, Root Vegetables, Tomatoes, Processed Cereals, Potato Flours, Foliage, Cereal Flours, Rapeseed, Cereal Meal and Pellets, Starches, Legume Flours, Legumes, Buckwheat, Pepper, Tea, Other Vegetable Products, Spices, Bananas, Coconuts, Brazil Nuts, and Cashews, Insect Resins, Bulbs and Roots, Barley, Linseed, Oats, Cucumbers, Vanilla, Preserved Vegetables, Wheat Glutens, Cinnamon, Spice Seeds, Preserved Fruits and Nuts, Locust Beans, Seaweed, Sugar Beet, Cane, for Food, Cereal Straws, Cut Flowers, Nutmeg, Rye, Citrus and Melon Peels, Maté, Cloves, Vegetable Plaiting Materials, Vegetable Stuffing Materials, Metals, Scrap Iron, Iron Fasteners, Other Iron Products, Aluminium Plating, Scrap Copper, Metal Mountings, Scrap Aluminium, Titanium, Large Flat-Rolled Stainless Steel, Iron Pipe Fittings, Other Small Iron Pipes, Flat Flat-Rolled Steel, Coated Flat-Rolled Iron, Hot-Rolled Iron, Copper Wire, Iron Structures, Other Aluminium Products, Iron Pipes, Interchangeable Tool Parts, Nickel Bars, Aluminium Bars, Raw Aluminium, Refined Copper, Padlocks, Iron Springs, Other Nickel Products, Aluminium Foil, Other Steel Bars, Cold-Rolled Iron, Aluminium Structures, Iron Blocks, Large Flat-Rolled Iron, Copper Plating, Small Iron Containers, Other Hand Tools, Raw Iron Bars, Flat-Rolled Stainless Steel, Nickel Sheets, Iron Stovetops, Razor Blades, Stranded Copper Wire, Iron Chains, Large Coated Flat-Rolled Iron, Tool Plates, Other Copper Products, Large Iron Containers, Other Stainless Steel Bars, Aluminium Pipes, Iron Radiators, Iron Gas Containers, Coated Metal Soldering Products, Copper Bars, Flexible Metal Tubing, Hand Saws, Metal Stoppers, Copper Pipe Fittings, Other Cast Iron Products, Stranded Iron Wire, Cobalt, Copper Foil, Iron Railway Products, Iron Powder, Flat-Rolled Iron, Raw Zinc, Copper Pipes, Tantalum, Nickel Pipes, Raw Nickel, Other Metals, Other Metal Fasteners, Aluminium Cans, Iron Wire, Cutting Blades, Ferroalloys, Aluminium Pipe Fittings, Stainless Steel Wire, Other Large Iron Pipes, Aluminium Wire, Wrenches, Zirconium, Iron Housewares, Iron Cloth, Hand Tools, Other Iron Bars, Tungsten, Magnesium, Copper Fasteners, Aluminium Gas Containers, Hot-Rolled Iron Bars, Stainless Steel Ingots, Iron Reductions, Scrap Lead, Iron Ingots, Steel Wire, Steel Ingots, Nickel Powder, Knives, Molybdenum, Copper Powder, Cermets, Iron Toiletry, Other Zinc Products, Metal Signs, Aluminium Housewares, Raw Tin, Iron Nails, Scrap Nickel, Iron Sheet Piling, Tool Sets, Steel Bars, Scrap Waste, Metal Office Supplies, Bells and Other Metal Ornaments, Safes, Raw Copper, Aluminium Powder, Zinc Sheets, Large Aluminium Containers, Nickel Mattes, Stranded Aluminium Wire, Zinc Bars, Other Lead Products, Garden Tools, Copper Alloys, Other Tin Products, Iron Sewing Needles, Lead Sheets, Other Cutlery, Cutlery Sets, Filing Cabinets, Scissors, Precipitated Copper, Cooking Hand Tools, Manganese, Copper Housewares, Scrap Tins, Barbed Wire, Bismuth, Antimony, Pig Iron, Iron Anchors, Cadmium, Endless Copper Wire Bands, Precious Metals, Gold, Diamonds, Jewellery, Precious Metal Scraps, Platinum, Silver, Other Precious Metal Products, Precious Stones, Synthetic Reconstructed Jewellery Stones, Imitation Jewellery, Pearl Products, Precious Stone Dust, Coin, Silver Clad Metals, Pearls, Gold Clad Metals, Platinum Clad Metals, Metal-Clad Products, Animal Products, Pig Meat, Poultry Meat, Bovine Meat, Frozen Bovine Meat, Non-Fillet Frozen Fish, Edible Offal, Cheese, Fish Fillets, Concentrated Milk, Crustaceans, Whey, Animal Organs, Molluscs, Eggs, Other Inedible Animal Products, Horses, Preserved Meat, Bovine, Poultry, Non-Fillet Fresh Fish, Milk, Butter, Processed Egg Products, Fermented Milk products, Bird Feathers and Skins, Animal Fat, Processed Fish, Processed Bones, Other Animals, Live Fish, Other Edible Animal Products, Human Hair, Pigs, Sheep and Goat Meat, Pharmaceutical Animal Products, Honey, Other Meat, Raw Bones, Coral and Shells, Pig Hair, Sheep and Goats, Horse Meat, Sponges, Paper Goods, Sulfate Chemical Woodpulp, Recovered Paper, Uncoated Kraft Paper, Brochures, Paper Containers, Kaolin Coated Paper, Cellulose Fibers Paper, Toilet Paper, Shaped Paper, Dissolving Grades Chemical Woodpulp, Other Printed Material, Other Uncoated Paper, Corrugated Paper, Newsprint, Uncoated Paper, Paper Labels, Facial Tissue, Newspapers, Recovered Paper Pulp, Paper Notebooks, Postage Stamps, Other Carbon Paper, Semi Chemical Woodpulp, Decals, Wallpaper, Carbon Paper, Sulfite Chemical Woodpulp, Vegetable Parchment, Composite Paper, Letter Stock, Children's Picture Books, Postcards, Cigarette Paper, Sheet Music, Mechanical Wood Pulp, Paper Spools, Calendars, Maps, Paper Pulp Filter Blocks, Foodstuffs, Other Edible Preparations, Soybean Meal, Animal Food, Alcohol>80% Abv, Starch Residue, Hard Liquor, Sauces and Seasonings, Baked Goods, Other Processed Fruits and Nuts, Chocolate, Wine, Flavored Water, Other Sugars, other Frozen Vegetables, Other Prepared Meat, Malt Extract, Raw Tobacco, Fruit Juice, Beer, Prepared Cereals, Other Processed Vegetables, Sausages, Animal Meal and Pellets, Soups and Broths, Coffee and Tea Extracts, Processed Tomatoes, Processed Crustaceans, Processed Fish, Pasta, Confectionery Sugar, Yeast, Jams, Processed Tobacco, Raw Sugar, Other Fermented Beverages, Cocoa Paste, Cocoa Butter, Vinegar, Other Vegetable Residues, Molasses, Cocoa Powder, Vermouth, Animal Extracts, Sugar Preserved Foods, Textiles, Raw Cotton, Non-Woven Textiles, Non-Retail Synthetic Filament Yarn, Non-Retail Pure Cotton Yarn, Tufted Carpets, Plastic Coated Textile Fabric, Artificial Filament Tow, Used Clothing, Light Rubberized Knitted Fabric, Other Cloth Articles, Non-Retail Synthetic Staple Fibers Yarn, Technical Use Textiles, Non-Knit Women's Suits, Heavy Pure Woven Cotton, Synthetic Filament Yarn Woven Fabric, Knit T-Shirts, Unprocessed Synthetic Staple Fibers, Narrow Woven Fabric, Knit Socks and Hosiery, Non-Knit Men's Suits, Knit Sweaters, Synthetic Fabrics, Twine and Rope, Synthetic Monofilament, Knit Women's Suits, Rubber Textile Fabric, Non-Knit Active Wear, Wadding, Non-Retail Artificial Filament Yarn, Felt, Non-Retail Mixed Cotton Yarn, Awnings, Tents, and Sails, Artificial Filament Sewing Thread, Other Synthetic Fabrics, Heavy Synthetic Cotton Fabrics, Coated Textile Fabric, Pile Fabric, Polyamide Fabric, Felt or Coated Fabric Garments, Non-Knit Women's Shirts, Non-Knit Men's Shirts, Packing Bags, Knit Women's Undergarments, House Linens, Other Non-Knit Clothing Accessories, Other Carpets, Synthetic Filament Tow, Light Synthetic Cotton Fabrics, Light Pure Woven Cotton, Other Knit Garments, Non-Knit Men's Coats, Knit Women's Shirts, Unprocessed Artificial Staple Fibers, Other Women's Undergarments, Hose Piping Textiles, Textile Scraps, Window Dressings, Prepared Cotton, Hand-Woven Rugs, Cotton Waste, Knit Men's Shirts, Conveyor Belt Textiles, Knit Men's Suits, Non-Retail Artificial Staple Fibers Sewing Thread, Tulles and Net Fabric, Non-Knit Women's Coats, Labels, Gimp Yarn, Woven Fabrics, Heavy Mixed Woven Cotton, Knit Active Wear, Other Knit Clothing Accessories, Light Mixed Woven Cotton, Felt Carpets, Artificial Fibers Waste, Other Articles of Twine and Rope, Knit Gloves, Wool, Bedspreads, Rubber Textiles, Netting, Quilted Textiles, Cotton Sewing Thread, Metallic Yarn, Knit Men's Undergarments, Knit Women's Coats, Blankets, Knit Men's Coats, Non-Knit Women's Undergarments, Prepared Wool or Animal Hair, Non-Knit Gloves, Knit Babies' Garments, Knotted Carpets, Woven Fabric of Synthetic Staples Fibers, Ornamental Trimmings, Processed Synthetic Staple Fibers, Carded Wool or Animal Hair Fabric, Scarves, Non-Knit Men's Undergarments, Retail Artificial Staple Fibers Yarn, Non-Retail Artificial Staple Fibers Yarn, Artificial Filament Yarn Woven Fabric, Combed Wool or Animal Hair Fabric, Embroidery, Non-Knit Babies' Garments, Gum Coated Textile Fabric, Silk Fabrics, Retail Cotton Yarn, Textile Wicks, Garments of Impregnated Fabric, Textile Wall Coverings, Neck Ties, Other Cotton Fabrics, Animal Hair, Retail Artificial Filament Yarn, Terry Fabric, Non-Retail Carded Wool Yarn, Flax Woven Fabric, Gauze, Non-Retail Combed Wool Yarn, Linoleum, Processed Artificial Staple Fibers, Other Vegetable Fibers Yarn, Retail Wool or Animal Hair Yarn, Packaged Sewing Sets, Coconut and Other Vegetable Fibers, Wool or Animal Hair Waste, Artificial Monofilament, Metallic Fabric, Jute Woven Fabric, Handkerchiefs, Raw Silk, Other Vegetable Fibers Fabric, Hemp Fibers, Non-Retail Silk Yarn, Jute and Other Textile Fibers, Flax Fibers, Retail Silk Yarn, Garnetted Wool or Animal Hair, Hand-Woven Tapestries, Jute Yarn, Horsehair Fabric, Silkworm Cocoons, Flax Yarn, Non-Retail Animal Hair Yarn, Horsehair Yarn, Horsehair Yarn, Stone and Glass, Glass Mirrors, Other Stone Articles, Glass Fibers, Laboratory Ceramic Ware, Safety Glass, Abrasive Powder, Float Glass, Asphalt, Rock Wool, Glass Balls, Interior Decorative Glassware, Refractory Ceramics, Milling Stones, Friction Material, Refractory Bricks, Glass Bottles, Cast or Rolled Glass, Insulating Glass, Other Glass Articles, Laboratory Glassware, Plaster Articles, Asbestos Cement Articles, Other Ceramic Articles, Cement Articles, Signaling Glassware, Bathroom Ceramics, Blown Glass, Unglazed Ceramics, Glass Beads, Glass Scraps, Glass with Edge Workings, Building Stone, Asbestos Fibres, Vegetable Fiber, Mica, Glass Bricks, Glazed Ceramics, Porcelain Tableware, Ceramic Tableware, Ornamental Ceramics, Ceramic Bricks, Bricks, Eyewear and Clock Glass, Roofing Tiles, Ceramic Pipes, Glass Bulbs, Curbstones, Slate, Arts and Antiques, Paintings, Sculptures, Antiques, Collector's Items, Prints, Revenue Stamps, Animal and Vegetable Bi-Products, Soybean Oil, Other Pure Vegetable Oils, Stearic Acid, Margarine, Bovine, Sheep, and Goat Fat, Inedible Fats and Oils, Fish Oil, Pig and Poultry Fat, Rapeseed Oil, Other Vegetable Oils, Seed Oils, Glycerol, Coconut Oil, Palm Oil, Waxes, Pure Olive Oil, Other Animal Fats, Ground Nut Oil, Wool Grease, Olive Oil, Fat and Oil Residues, Lard, Miscellaneous, Seats, Light Fixtures, Sports Equipment, Video and Card Games, Other Furniture, Prefabricated Buildings, Models and Stuffed Animals, Brooms, Medical Furniture, Mattresses, Ink Ribbons, Pens, Fairground Amusements, Zippers, Lighters, Fishing and Hunting Equipment, Scent Sprays, Vegetable and Mineral Carvings, Party Decorations, Buttons, Vacuum Flask, Pencil and Crayons, Rubber Stamps, Travel Kits, Mannequins, Combs, Chalkboards, Wood Products, Sawn Wood, Rough Wood, Fuel Wood, Veneer Sheets, Wood Carpentry, Wood barrels, Shaped Wood, Plywood, Wood Crates, Wood Fiberboard, Other Wood Articles, Particle Board, Wooden Tool Handles, Railroad Ties, Wood Ornaments, Natural Cork Articles, Wood Kitchenware, Wood Frames, Densified Wood, Wood Charcoal, Wood Wool, Agglomerated Cork, Raw Cork, Basketwork, Wood Stakes, Animal Hides, Tanned Equine and Bovine Hides, Trunks and Cases, Raw Furskins, Equine and Bovine Hides, Other Leather Articles, Leather of Other Animals, Leather Apparel, Other Hides and Skins, Saddlery, Tanned Furskins, Patent Leather, Sheep Hides, Furskin Apparel, Leather Sheets, Tanned Goat Hides, Leather Waste, Chamois Leather, Tanned Sheep Hides, Artificial Fur, Articles of Gut, Leather Used in Machinery, Weapons, Explosive Ammunition, Military Weapons, Weapons Parts and Accessories, Other Firearms, Handguns, Spring, Air, and Gas Guns, Bladed Weapons and Accessories, Footwear and Headwear, Footwear Parts, Leather Footwear, Other Headwear, Textile Footwear, Other Footwear, Rubber Footwear, Fake Hair, Knitted Hats, Headbands and Linings, Umbrellas, Waterproof Footwear, Processed Hair, Hats, Artificial Vegetation, Bird Skins and Feathers, Walking Sticks, Hat Forms, Umbrella and Walking Stick Accessories & more.
American Export Import Is Actively Searching to Buy:
Crude Petroleum, Petroleum Gas, Non Iron and Steel Slag, Ash, and Residues, Refined Petroleum, Petroleum Coke, Coal Briquettes, Petroleum Jelly, Coal Tar Oil, Feldspar, Copper Ore, Iron Ore, Barium Sulphate, Tungsten Ore, Quartz, Uranium and Thorium Ore, Broadcasting Equipment, Computers, Machinery, Cars, Packaged Medicaments, Human and Animal Blood and Vaccines, Vitamins, Essential Oils, Beauty Products, Industrial Fatty Acids, Oils and Alcohols, Laboratory Reagents, Scented Mixtures, Cyclic Hydrocarbons, Potassic Fertilizers, Acyclic Alcohols, Nitrogenous Fertilizers, Radioactive Chemicals, Special Pharmaceuticals, Sulfonamides, Perfumes, Hair Products, Pesticides, Ammonia, Reaction and Catalytic Products, Carboxylic Acids, Nucleic Acids, Other Organic and Inorganic Compounds, Cleaning Products, Disc Chemicals for Electronics, Mixed Mineral or Chemical Fertilizers, Hydrogen, Antibiotics, Vegetable Alkaloids, Sulfates, Dental Products, Polycarboxylic Acids, Other Coloring Matter, Nonaqueous Paints, Glues, Gelatin, Carbides, Waxes, Chemical Analysis Instruments and Equipment, Ethers, Bandages, Refractory Cements, Other Cements for medical and non-medical use, Trauma and Orthopedic Implants, Bone Replacement Implants, Hip Replacement Implants, Knee Replacement Implants, other Orthopedic Appliances and Products,  Raw Materials like Iron, Iron Pipes, Ferroalloys, Refined Cooper, Aluminum, Medical Instruments, Medical Equipment, Medical Disposable Products, Other Measuring Instruments, Thermostats, X-Ray Equipment, Ventilators, Photo Lab Equipment, Oscilloscopes, Eyewear, Surveying Equipment, Hydrometers, LCDs, Utility Meters, Microscopes, Binoculars and Telescopes, Gas and Liquid Flow Measuring Instruments, Optical Fibers, Electric and Non Electric Musical Instruments, Non Optical Microscopes, Video Cameras, Photocopiers, Alcohol Based Products like Hard Liquor, Wine, Beer, Coffee, Tropical Fruits, Furniture, Video and Card Games, Sports Equipment, Mattresses, Medical Furniture, Fishing and Hunting Equipment, Pencils and Crayons, Prefabricated Buildings, Zippers, Smoking Pipes, Lighters, Toys, Office Furniture, Home Furniture, Rubber, Rubber Tires and all kind of Plastics, Plastic Lids, Plastic Housewares, Raw Plastic Sheeting, Ethylene Polymers, Other Rubber Products, Polyacetals, Plastic Floor Coverings, Plastic Building Materials, Rubber Pipes, Synthetic Rubber, Styrene Polymers, Self-Adessive Plastics, Vinyl Chloride Polymers, Polyamides, Petroleum Resins, Plastic Pipes, Acrylic Polymers, Silicone, Cellulose, Rubber Sheets, Rubber, Amino-Resins, Compounded Unvulcanised Rubber, Natural Polymers, Polymer Ion-Exchangers, Gold, Platinum, Silver, Precious Stones, Gems, Like Diamonds, Precious Metal Scraps, Jewelry, Fish and Seafood Like Crustaceans, Fish Fillets, Bovine Meat, Frozen Bovine Meat, Non-fillet Fresh Fish, Bovine, Sheep and Goat Meat, Molluscs, Non-Fillet Frozen Fish, Processed Fish, Pig Meat, Poultry Meat, Horses, Sheep and Goats, Other Animals, Preserved Meat, Other Meat, Cheese, Cheese Based Products, Butter, Concentrated Milk, Honey, Honey Based Products, Wood, Wood Carpentry, Plywood, Other Wood Articles, Shaped Wood, Wood Fiberboard, Wood Frames, Leather Apparel, Tanned Equine and Bovine Hides, Other Leather Articles, Raw Leather, Raw Furskins, Leather Of Other Animals, Rapeseed Oil, Olive Oil, Pure Olive Oil, Coconut Oil, Palm Oil, Other Pure Vegetable Oils Like Grape Seeds Oil, Baked Goods, Chocolate, Fruit Juice, Confectionery Sugar, Raw Sugar, Sauces and Seasonings, Other Edible Preparations, Vegetables, Frozen Vegetables, Pasta, Flavored Water, Rolled Tobacco, Cocoa Butter, Cocoa Paste, Other Raw or Processed Fruits and Nuts, Cocoa Beans, Raw Tobacco, Alcohol +80%, Coffee and Tea Extracts, Cereals and Prepared Cereals, Soybean Meal.
American Export Import – Goods
The merchandise we buy, sell, export, import and open distribution channels for includes, but is not limited to:
Raw materials: timber, iron, steel, and any other kind of metals;
Construction materials: cement, steel, and all kinds of metals and materials for the construction industry;
Construction equipment: cranes, excavators, bulldozers, and all other equipment and construction systems;
Agriculture and food industry products: all kinds of cereals, crops, fruits and vegetables, fresh or dry, as well as meat, meat-based products and livestock;
Tobacco: all kinds of cigarettes and tobacco products;
Alcohol: all kinds of products that contain alcohol, including, but not limited to all kinds of spirits (whiskey, vodka, rum, and many others) as well as all kinds of wine and beer;
Packaged food products: packaged food products that are ready to be sold in shops, with the possibility to leverage on the strength of the American Export Import distribution network, giving you the possibility to put your products on the shelves, at eye level, in front of the American consumers, at national level, covering all states, from Hawaii to California, then down to Florida and up to Washington and New York City
Warehouse equipment: forklifts, automated warehouse storage systems, and all kinds of warehouse equipment;
Energy related products: oil, natural gas, mazut, coal, and all kinds of energy related products;
Equipment for the energy sector: technology and equipment for oil refineries, gas stations, and more;
Transport vehicles and transport equipment: trucks, railway equipment, wagons, locomotives, trains, car fleet, drones, both autonomous or operated by humans, and all kinds of vehicles;
Telecommunications: all equipment, materials and products necessary for all communication technologies, with focus on 5G systems and market access, as well as government approvals, permits and licenses, leveraging on the extensive experience and valuable contacts of American Export Import in the area of politics, government relations, public affairs, lobby, new legislation bills, both in United States, as well as in most countries, regions and territories.
Manufacturing: factory and manufacturing equipment for all industries and business sectors, including, but not limited to oil and energy, automotive, food processing, packaging materials and equipment, cigarette factory equipment, complete cigarette production lines, tobacco processing plants, including robots for your production floor;
Medical Equipment: medical supplies and equipment for all medical sectors, including, but not limited to surgery, trauma, laboratory, medical transportation special vehicles, as well as "Turn-key Hospitals";
City traffic management systems;
Heavy machinery for the mining industry;
Custom Industrial Robots: light work or heavy duty industrial robots, technology and machinery;
Custom Human Robots: androids and advanced humanoid robots for protection, entertainment and work;
Custom Military and Defense Robots;
Military equipment and devices;
Remodeling industry: tools and equipment for any type of structure and construction, whether it is flooring, demolition, electrical, roofing, HVAC, or another trade;
Home products: home devices, with Internet of Things (IoT) or without Internet of Things, and other products for personal use, such as tools & home improvement equipment;
Technology: all kinds of devices, including, but not limited to mobile phones, tablets, laptops, personal computers, and up-to-date gadget and professional devices;
Video game industry: all kinds of video games, equipment and accessories;
Fashion: Clothing, Shoes, Jewelry and accessories;
Consumer goods: all kinds of products part of the FMCG – Fast Moving Consumer Goods Category, both famous brands, as well as new products that need to be launched;
American Export Import – Services
The services we buy, sell, export, import, and open distribution channels for, include but are not limited to:
Bank Services, Leasing Operations, Insurance Sales and Distribution, Fintech Services, IT – Internet and Technology Services, Software, Services Related to the sales and distribution of Credit Cards and of Debit Cards, Services provided by Digital Businesses, Private Security Services, Defense and Military Services, Government Sector Services, Government Relations Services, Public Affairs Services, Government Lobbying Services, Government Sales and Acquisition Services, Local Government  Services, Central Government Services, Natural Resources Exploration – Licenses and Permits Related Services, Government Military Services, Private Military Services, Mergers and Acquisitions Services, Financial Services, Investment Banking Services, Legal Services, Immigration Services, Real Estate Investors Services.
American import, American imports, American tactical imports, trading international, international trade, trading places international, American trading international, American exports, American export, American export lines, American international export, what does the US export, US major exports, international trade commission, international trade administration, what role does competition play in international trade, what is international trade, US export, US exports, US oil exports, US exports to China, what does the US export to china, what does China export to the US, Exim bank, US Exim bank, China Exim bank, Euro Exim bank, export import bank, export import bank of the United States, import export, import and export, import vs export, import export business, American distribution, Los Angeles, San Francisco, Sacramento, San Diego, Santa Ana, Orange County, California, Dallas, Fort Worth, Houston, Texas, Miami, Fort Lauderdale, Florida, Atlanta, Georgia, New York City, New York, NYC, Washington D.C., District of Columbia, Washington State, Portland, Oregon, North Carolina, South Carolina, Chicago, Michigan, Las Vegas, Nevada, New Orleans, Louisiana, Honolulu, Hawaii, Alabama, New Jersey, Massachusetts, Iowa, Tennessee, New Mexico, Delaware, Nebraska,  West Virginia, Virginia, Vermont, Arizona.